Fashion
Garmin Fenix 7: The Ultimate Multisport GPS Smartwatch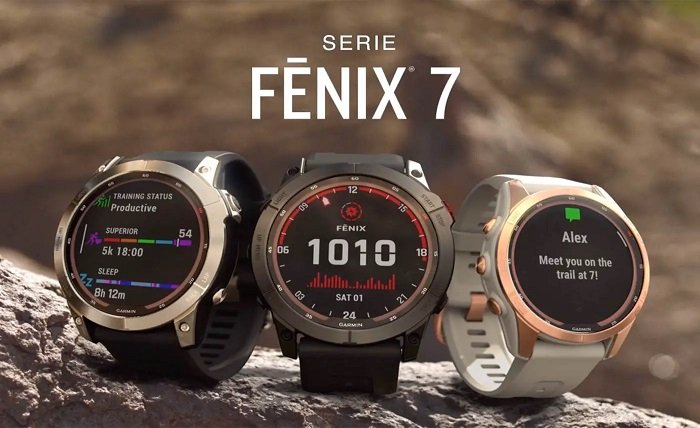 In the world of smartwatches, Garmin has always been a trusted brand, known for its precision, durability, and advanced features. One of their most highly anticipated releases is the Garmin Fenix 7. This multisport GPS smartwatch promises to take performance tracking to the next level. In this article, we will explore the exciting features of the Garmin Fenix 7 and why it's a game-changer for athletes and outdoor enthusiasts.
Unparalleled Performance Tracking:
The Garmin Fenix 7 sets new standards when it comes to performance tracking. With its advanced GPS and multi-satellite network, this smartwatch provides accurate data for various activities, including running, cycling, swimming, hiking, and more. Whether you're a professional athlete or a fitness enthusiast, the Fenix 7's precise tracking will help you optimize your performance and achieve your goals.
Enhanced Durability and Design:
When it comes to outdoor adventures, durability is crucial. The Garmin Fenix 7 boasts a rugged yet sleek design that can withstand the harshest conditions. Its reinforced polymer case and scratch-resistant sapphire glass ensure that it can handle any activity without compromising its functionality. With a water resistance rating of up to 100 meters, you can confidently take the Fenix 7 with you during your water-based activities.
Advanced Health and Fitness Features:
The Garmin Fenix 7 is not just a smartwatch; it's a comprehensive fitness companion. It offers a range of health and fitness features to keep you on top of your game. With wrist-based heart rate monitoring, you can accurately track your heart rate throughout the day and during workouts. The built-in Pulse Ox sensor measures your blood oxygen saturation levels, providing insights into your overall health and recovery.
Intuitive Navigation and Mapping:
Exploring new trails and routes has never been easier with the Garmin Fenix 7. It comes with advanced navigation features, including preloaded topographic maps, turn-by-turn directions, and a compass. The watch also supports popular navigation systems like GPS, GLONASS, and Galileo, ensuring that you never lose your way, even in remote areas. The Fenix 7's breadcrumb trail feature allows you to retrace your steps, making it ideal for hiking, trail running, and wilderness exploration.
Smart Features for Everyday Convenience:
Beyond its fitness capabilities, the Garmin Fenix 7 offers a range of smart features to make your everyday life more convenient. With smart notifications, you can receive calls, messages, and app alerts directly on your wrist, so you never miss an important update. The watch also supports contactless payments, allowing you to make purchases on the go. Additionally, the Fenix 7 is compatible with various music streaming services, giving you the freedom to enjoy your favorite tunes while working out.
Conclusion:
The Garmin Fenix 7 is a testament to Garmin's commitment to excellence in the world of smartwatches. With its unparalleled performance tracking, enhanced durability, and advanced features, it stands as the ultimate multisport GPS smartwatch. Whether you're an athlete looking to optimize your training or an outdoor enthusiast seeking a reliable companion, the Fenix 7 has you covered. Stay ahead of the game and reach new heights with the Garmin Fenix 7 by your side.